St Paul's Catholic School was established in 1928 by the Sisters of the Missions. The founder of the order was Euphrasie Barbier.
Mission (Est since 2017)
To provide a Collaborative, Holistic learning environment founded on Catholic ideals.
School Charism (Communion) (Contemplation) (Mission)
Vision
To Know, Love and Serve God
To have the Spiritual, Physical, Emotional and Academic strength and understanding needed to meet the challenges and adventures of a 'Global Citizen.
While at St Paul's Catholic School, our vision for our tamariki is that they:
Are conscious of what the Special Character of our School is and what it means to be a member of a Catholic Community
Model the values taught by Jesus Christ
Are encouraged to take responsibility for their learning
Want to learn
Learn how to learn
Have high literacy and numeracy skills
Are encouraged and supported by staff and peers
Accept the strengths and weaknesses of themselves and others
Participate willingly in a wide range of extracurricular activities
Have access to information technology
Are provided with opportunities for leadership, teamwork and the development of life skills.
Values
As followers of Christ, we place a high value on the 'Fruits of the Holy Spirit' and in doing so we want our children and teachers to be:
Self-less Whaiaro- iti
Trustworthy Whakapono
Proud to be Catholic Ngakaunui Ki a Katorikia
Adventurous Rikarika
Understanding Mohiotanga
Loving Aroha
Striving for Excellence E Toho mo te Hiranga
May your Christmas be blessed and happy.
School Day Out 2017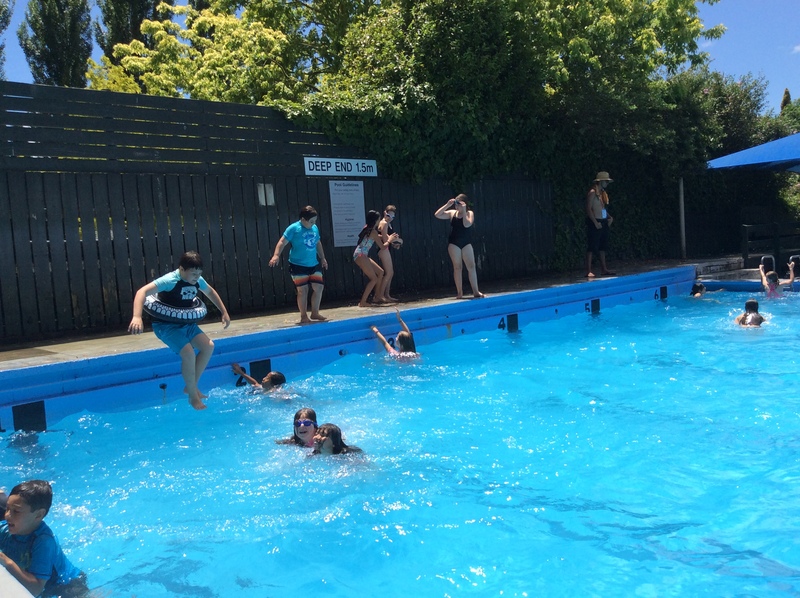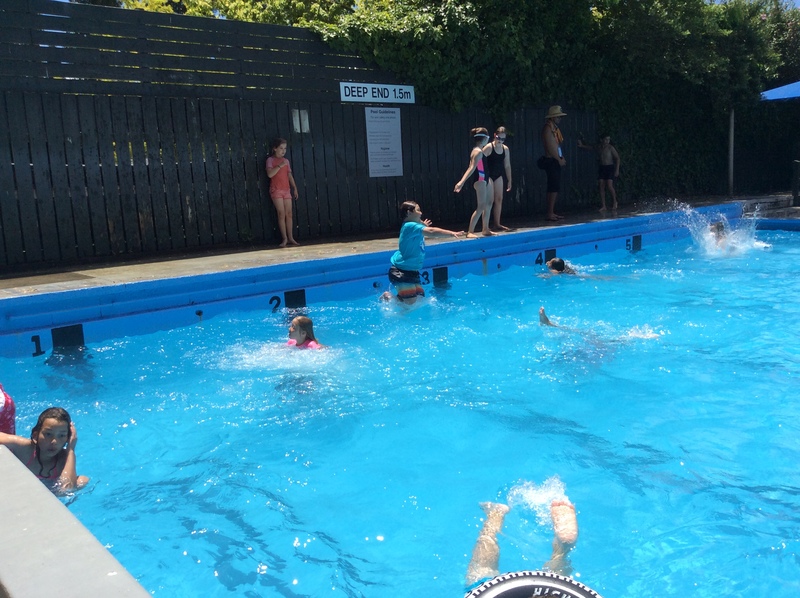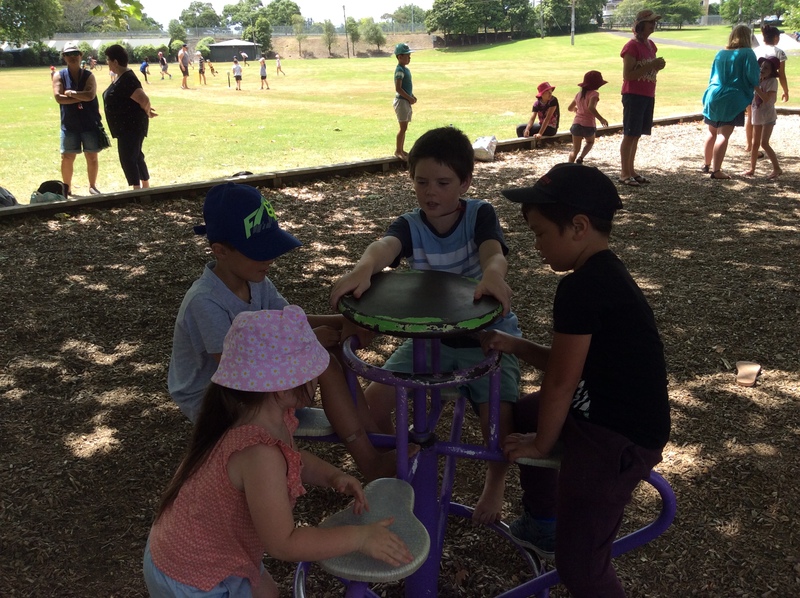 Well done, Laekin for winning the 2017 Speech Competition.

Thank you St Joseph's House for organising the Matariki Disco.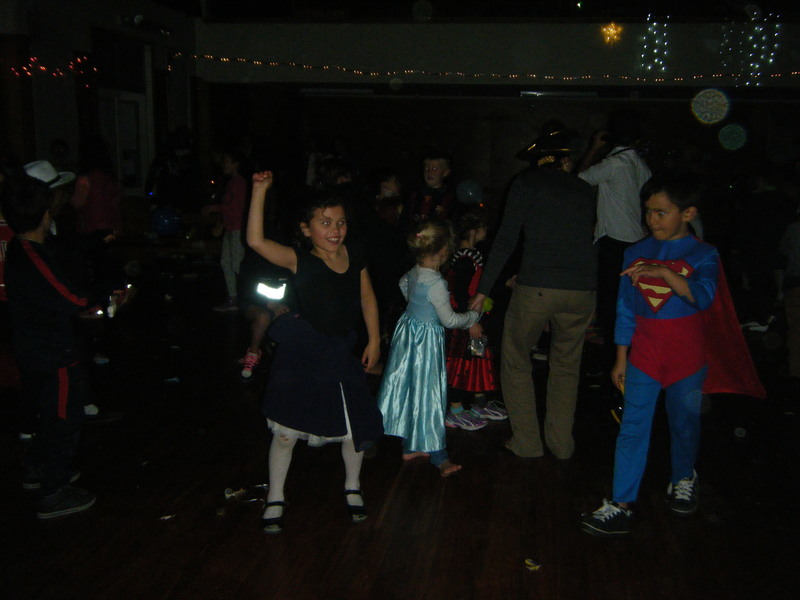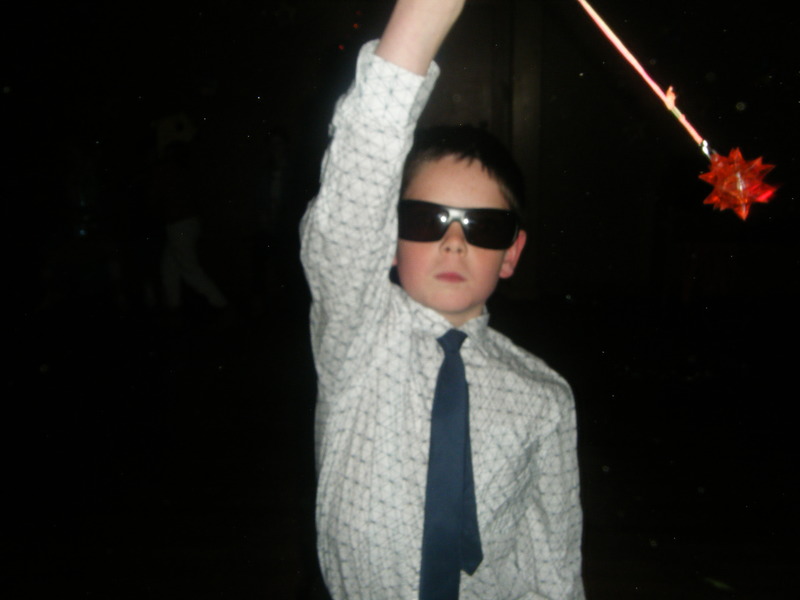 Cross Country
Winning House Chant
Congratulations to all the boys and girls who tried their best in Cross Country, and a special congratulations to those who came first, second and third. Thank you to all the parents, teachers and Brother Joe who helped, so that the afternoon would run smoothly.
Well done Rooms 5 and 6 in organising a Matariki Festival for us on Friday. You are to be congratulated on the way you ran the games, helped the children to weave, cooked kai and showed us your beautiful artwork.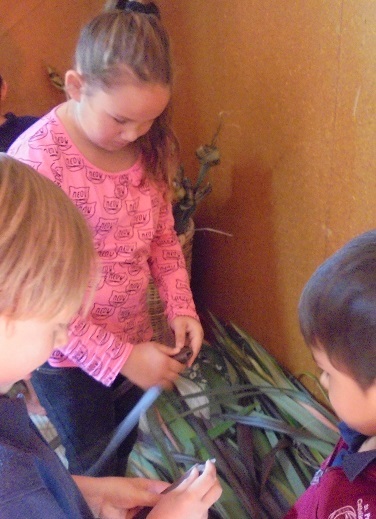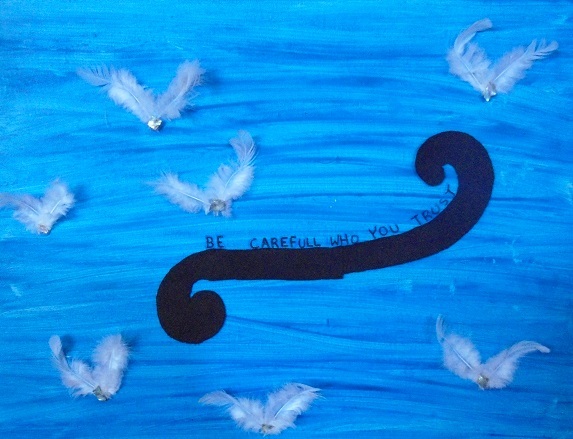 Moses and Hayden led us in prayer at assembly on Friday.
Magic Shows
Jonathon Usher, the first magician, was very funny as well as being very clever, and El Gregoe gave his annual show, 'You've Got the Power' to reinforce the message, that we want to be a Bully-Free School. We were enthralled by his birds, especially the talking parrot, and amazed by him when he magically floated in the air. Ask your children to tell you about it.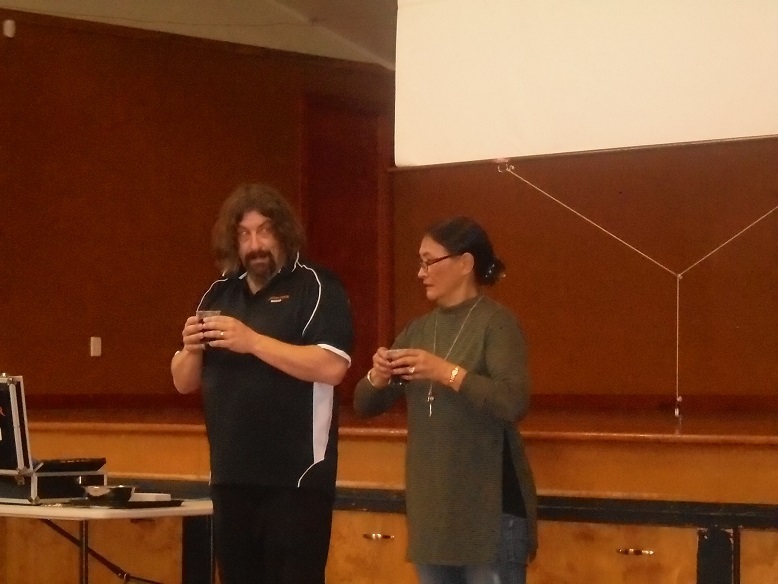 On Pentecost Sunday, we celebrate the birthday of the Church. Thank you to all the families who joined us at Mass yesterday, to celebrate.
ANZAC Day in Ngaruawahia
Thank you Paige, Madison, Moses and Quinn who represented our school at the laying of the wreaths at the War Memorial in Ngaruawahia.
We wish you a happy and a holy Easter.
Good Friday
Holy Thursday
Palm Sunday
Raffle Winners
Congratulations to everyone who bought a ticket in our Easter raffle.
Thanks to you, the people of Cambodia will be able to be helped a bit more by Caritas.
Regatta
Well done to our crews on the water.
Live Simply Day
We pray for the people who live in Cambodia, especially the children. We prayed for them at Mass and we sat in solidarity with them when we sat to eat our rice lunch. We ask God to help us to be generous by putting money in the Caritas boxes to send to Caritas, who will use the money to help the people in Cambodia, and also in Fiji, because many of the homes in Fiji were demolished by the cyclone that tore through.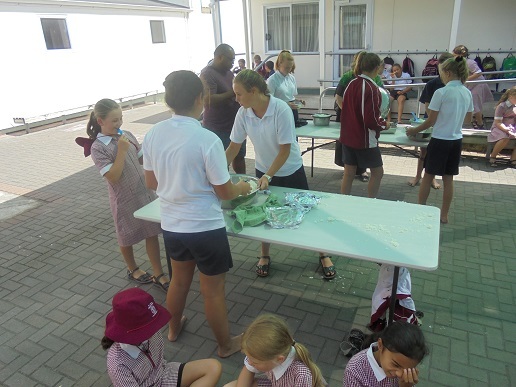 Swimming Sports 2016
It was such a lovely day and we had a super team of helpers! Thank you to all of the helpers who made the day such a great day. After lunch, the children were allowed free time before the relays. You can see the Parents versus Students relay on the Room 4 class website. See me if you want the website address.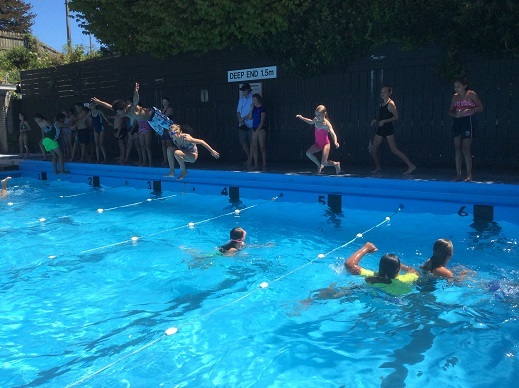 World of Maths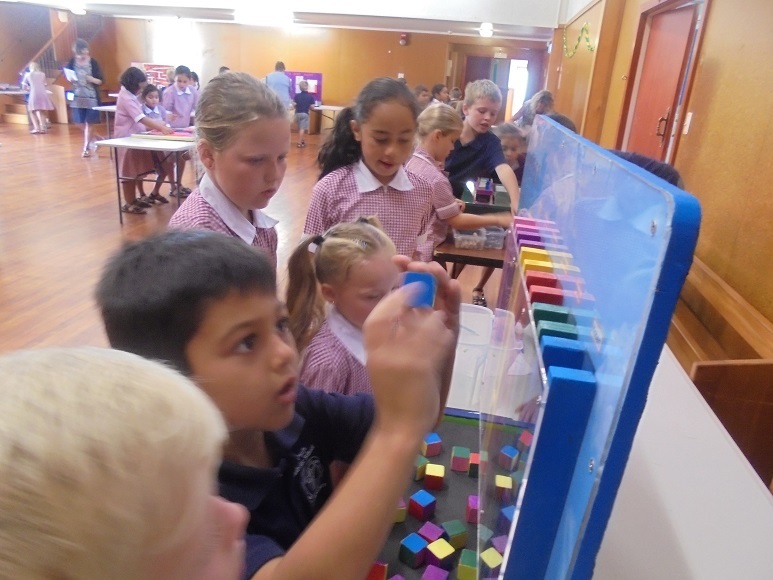 Lots of celebrations happening: Happy Waitangi Day, Happy Chinese New Year.
On Shrove Tuesday, we burnt last year's Palm Sunday palms to ash. This ash is used at Mass on Ash Wednesday by Father, when he makes the Sign of the Cross on our foreheads and reminds us to turn away from sin and follow Jesus.
Welcome back for 2016.
We began with a powhiri to welcome our new Principal, Mr Shaun Emms, our new teachers, Whaea Mihi and Whaea Trish, and our new students.
May Jesus fill you with many holy blessings this Christmas.
Lots of fun at our school outing - play and lunch at the Point, followed by a swim at the pools.
Tau ke Concert

Athletics Day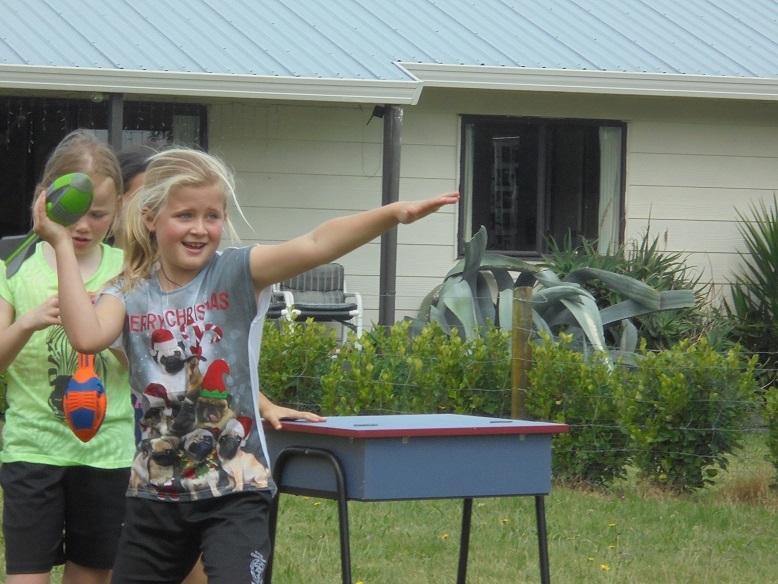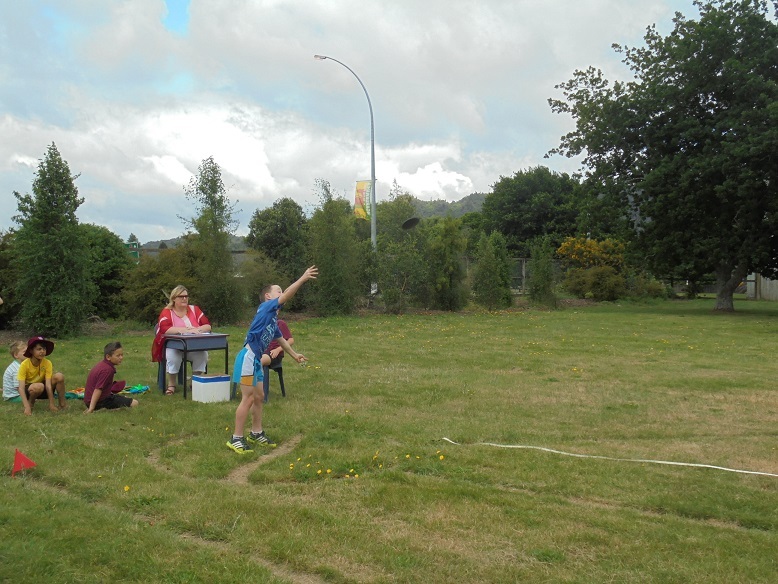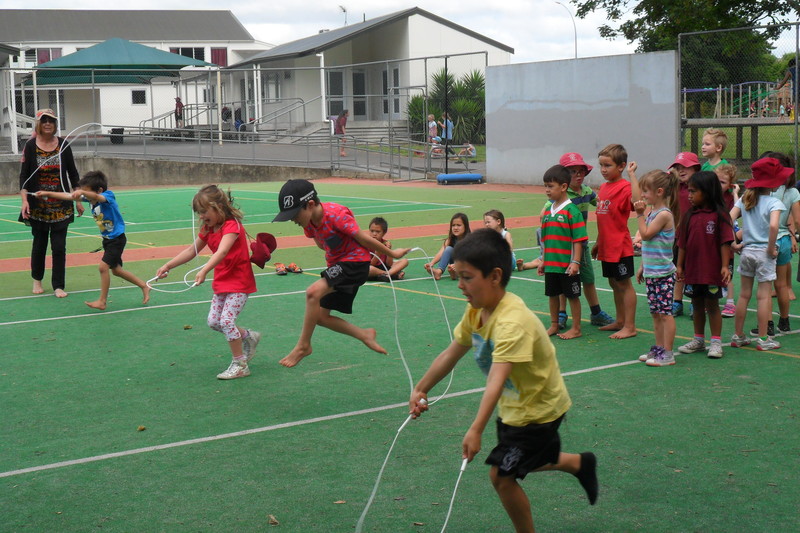 Congratulations to our Bible Reading Finalists.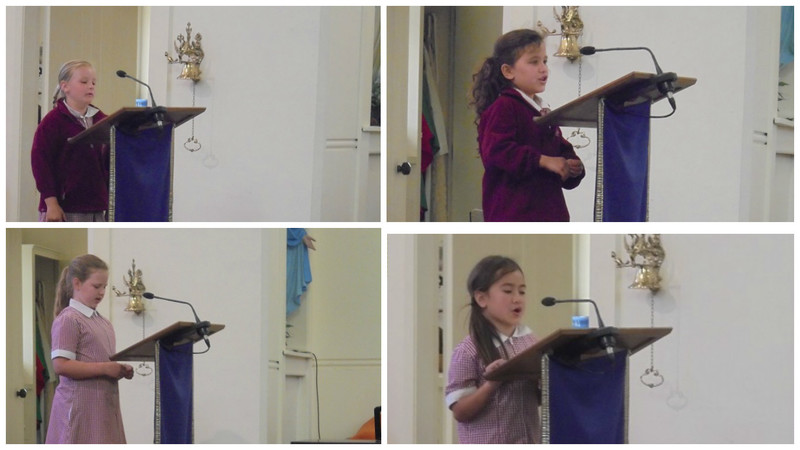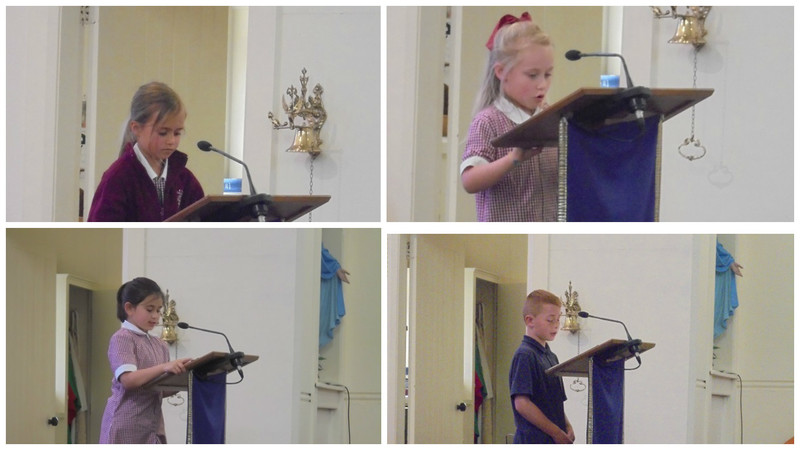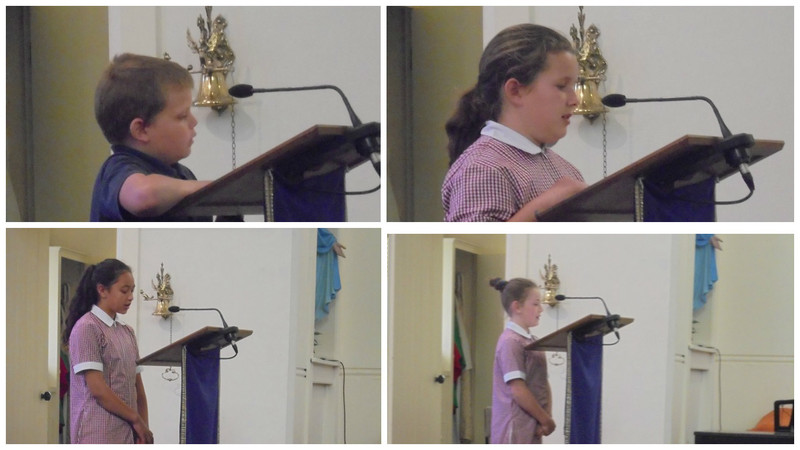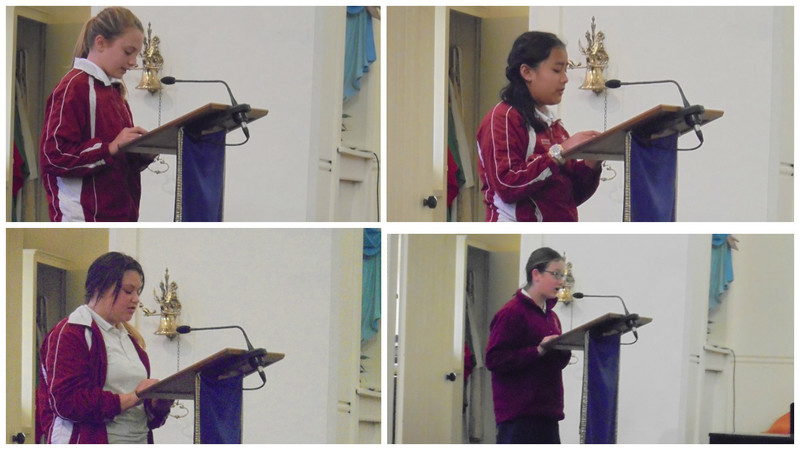 Well done, Room 6, for organising the activities for Mission Day.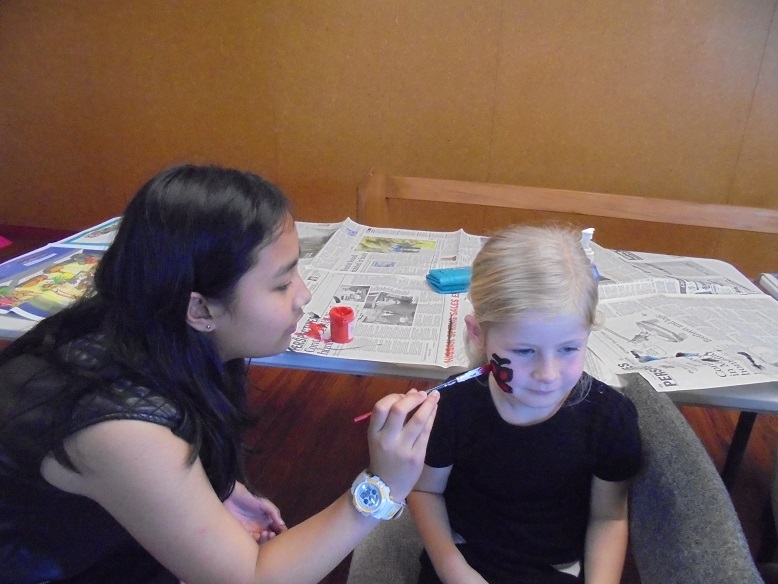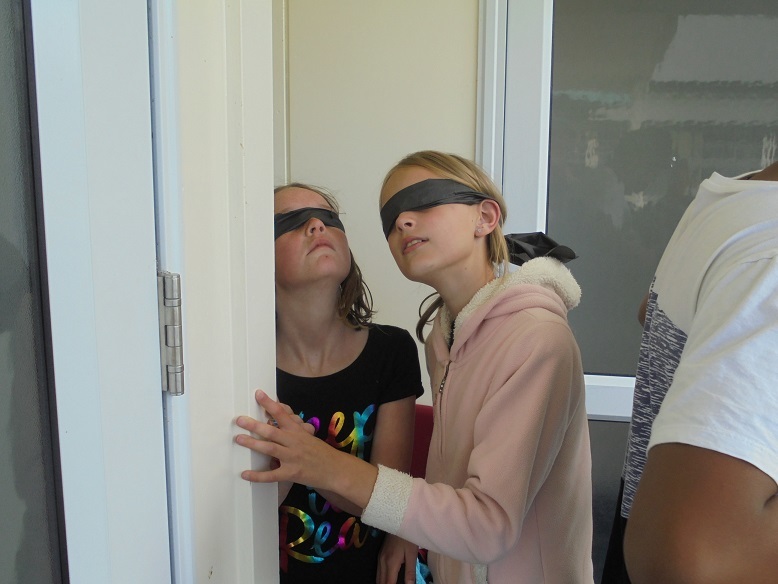 Mission Day
Pet Day and Plants Show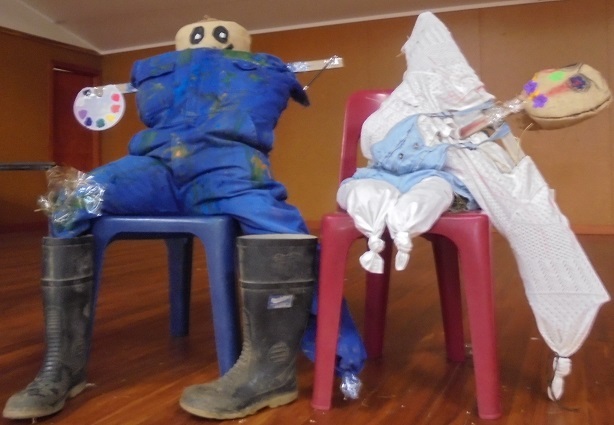 We wore black clothes to school for the All Blacks.
Milk in Schools
Thank you, God, for the safe return of
Room 6 from their camp.
Cross Country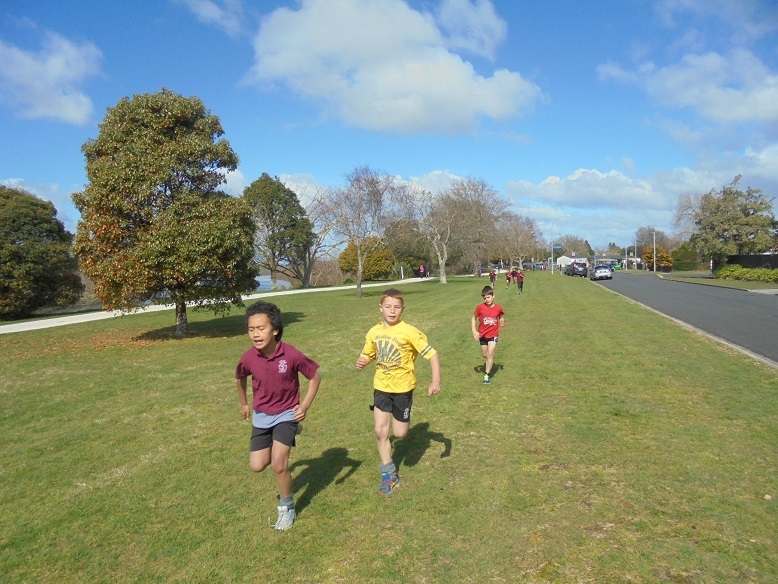 The children have been working hard on their speeches.
The finalists were very good when they did theirs for the whole school.

Disco
Daffodil Day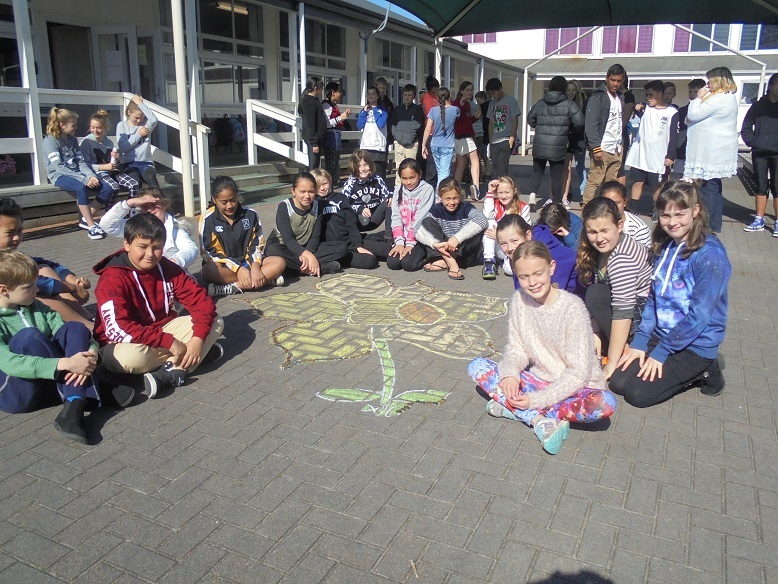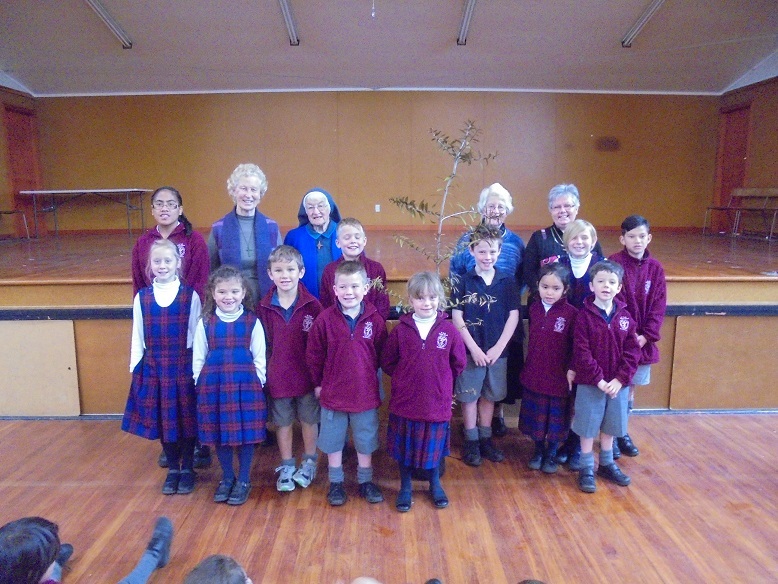 150 years ago, the Mission Sisters arrived in NZ and set up Catholic schools. St Paul's is one of those schools. Sister Anne and three other sisters came to St Paul's. They donated a Kauri tree to be planted in our grounds in remembrance of this. Click here to see Sister Anne talking to the children.

Touch and Netball games were played with children from the other Ngaruawahia schools.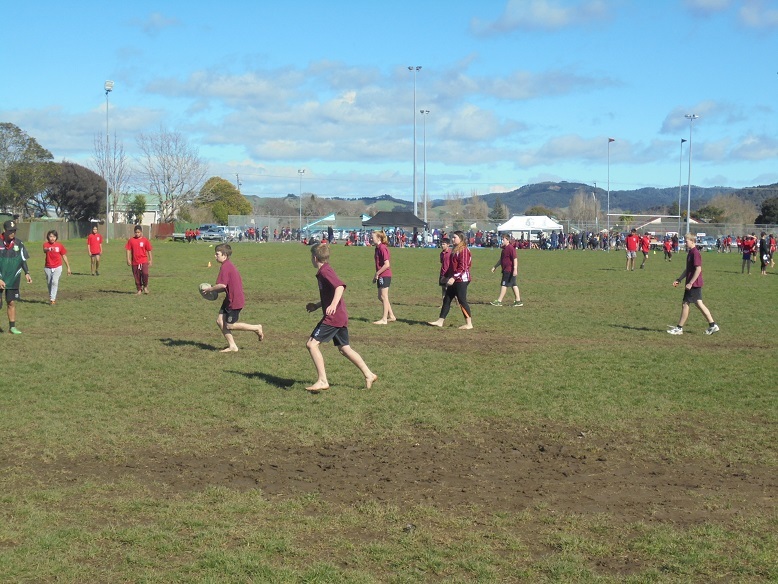 The children really enjoyed the visit by Bishop Steve.
Congratulations, Brogen. What an awesome effort winning the Matariki Book Cover Competition and the People's Choice Award, and coming second in the Short Story Competition.
Mr K and Miss Whitfield were farewelled

in a very special Liturgy.
The boys and girls farewell Mr K.
See their Halleluia Song and their haka here.
Under 20 Football World Cup
Fans can read the placards on the trail to the Stadium to watch the Under 20 Football World Cup. Nancy's was chosen from St Paul's.
Gala Afternoon for Mason
Nicola, James and Brayden visited us today and told us about the Under 20 Football World Cup. James used to be an All White and Brayden plays indoor soccer. The World Cup mascot is named Woolliam.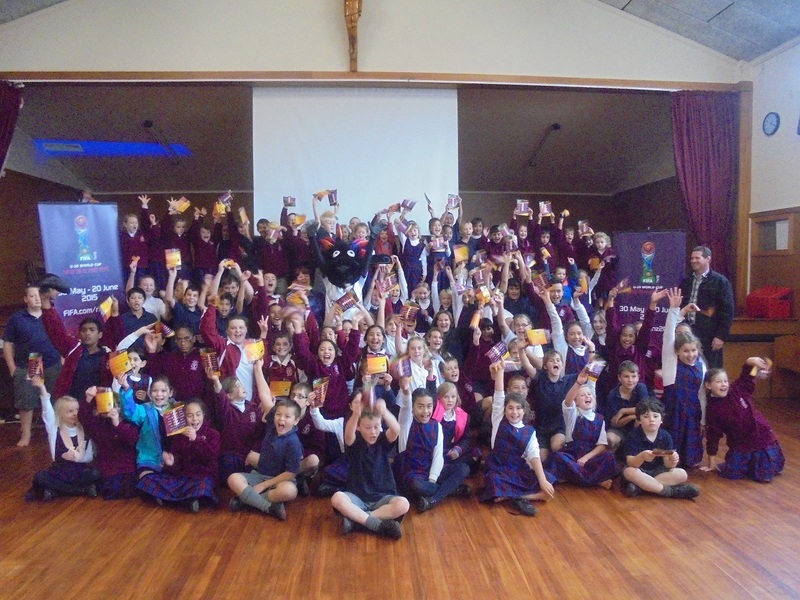 El Grego taught the children about being kind to one another and to use their WITS if someone tries to tease or bully them.
Congratulations to our Baptism children.
We will remember them.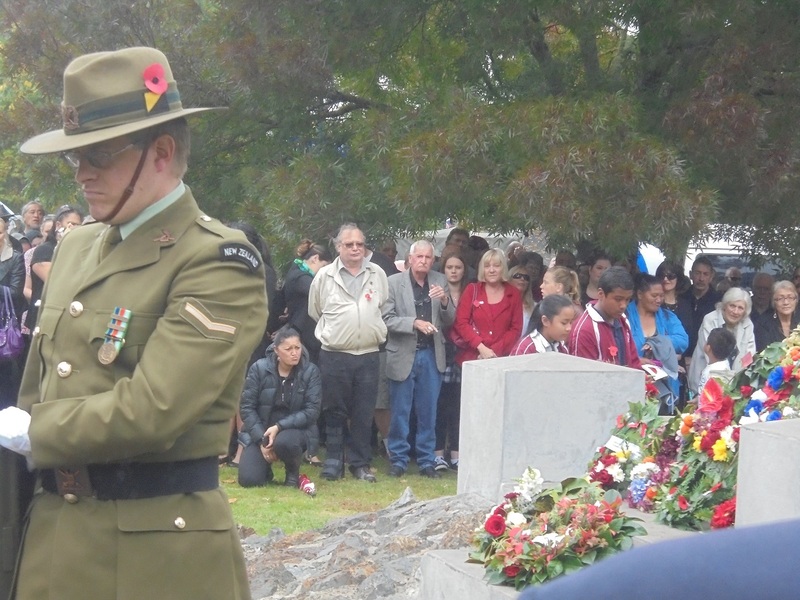 Easter Liturgy presented by Room 5.
We wish you a very happy and holy Easter, and a very happy holiday.
Easter Liturgies
Easter Raffles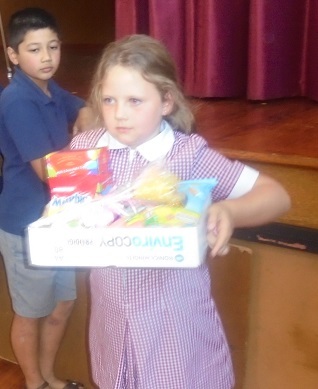 Bike Day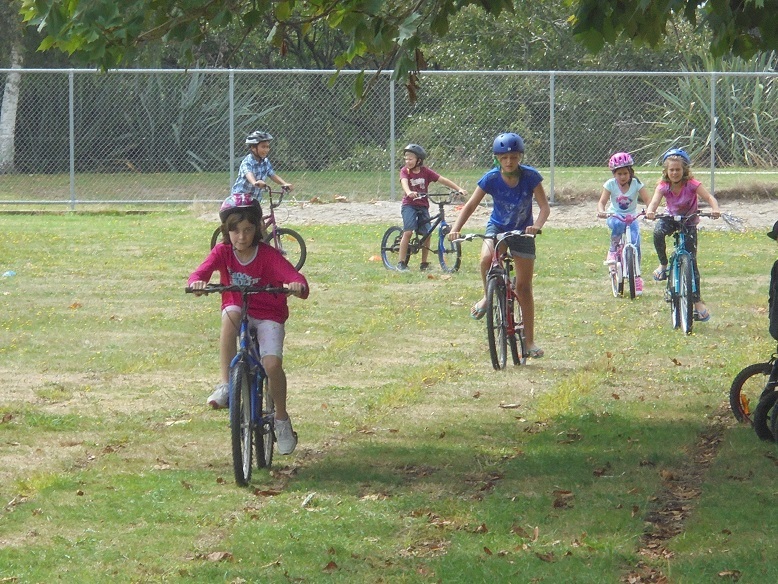 Regatta
The Years 1-5 children on the bank were calling out,
"Go, St Paul's!" and this crew won their race.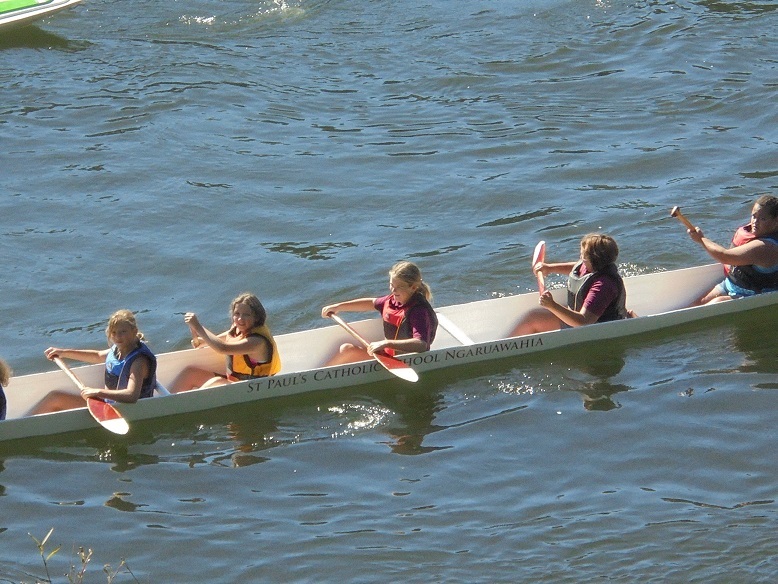 Having Fun at the Family Fun Night
Thank you, Mrs McCaig, for organising it.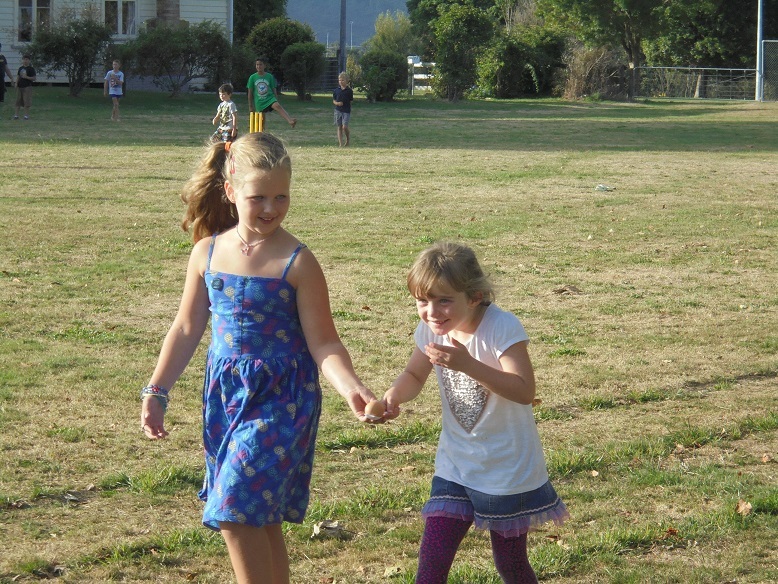 Solidarity Day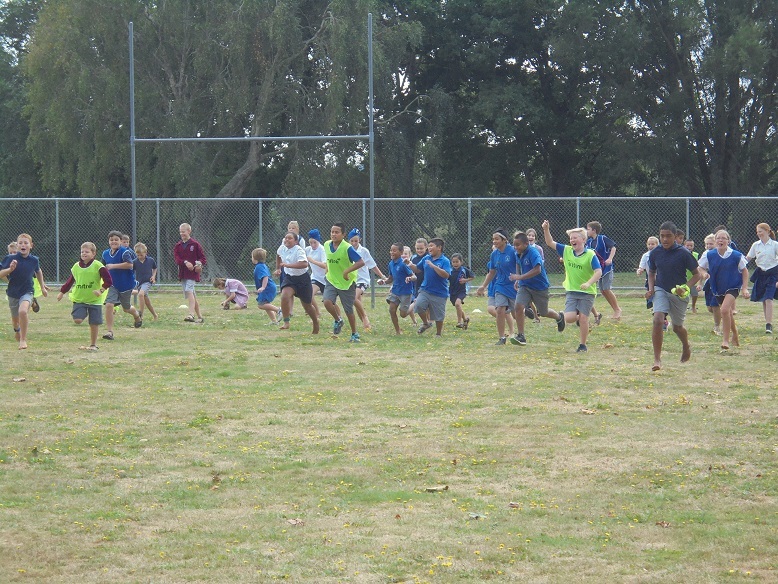 Gemma visited us, to tell us about Caritas, and the work that Caritas is doing in the Philippines and in Vanuatu.
We had a great day at our Swimming Sports.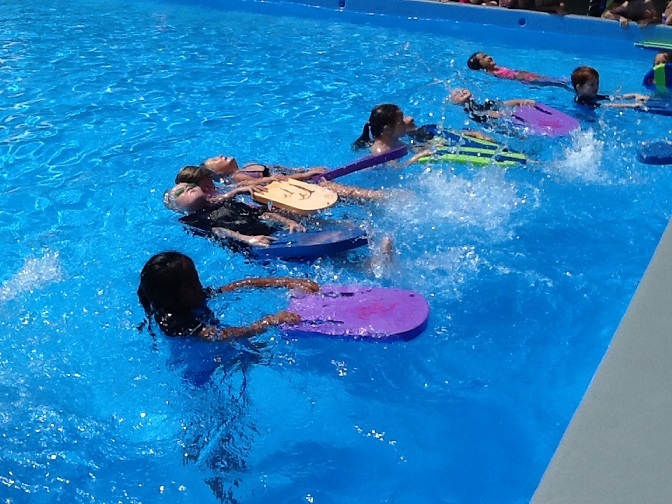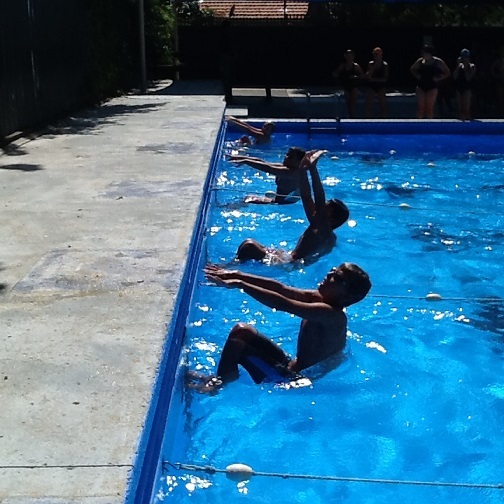 Hamilton Cricket sent two young cricketers to help the children with their cricket skills.
The children are learning about water safety
in the pool this week.
Ash Wednesday is the beginning of Lent.
During Lent, we can practise self-denial. By practising self-denial, we get stronger about saying 'no' to temptation.
Burning the Palms For Ash Wednesday.
The children are practising their singing for their first School Mass of the year.
The children are enjoying their swimming lessons.
Welcome back to school in 2015. We hope your year will be an enjoyable one.
The events below are the events of 2014:

2014 Kapa Haka Group Children's 2014 Talent Show

The Nativity Tableau at our Final Mass 2014
Big Day Out

Fun at the Point
Sausages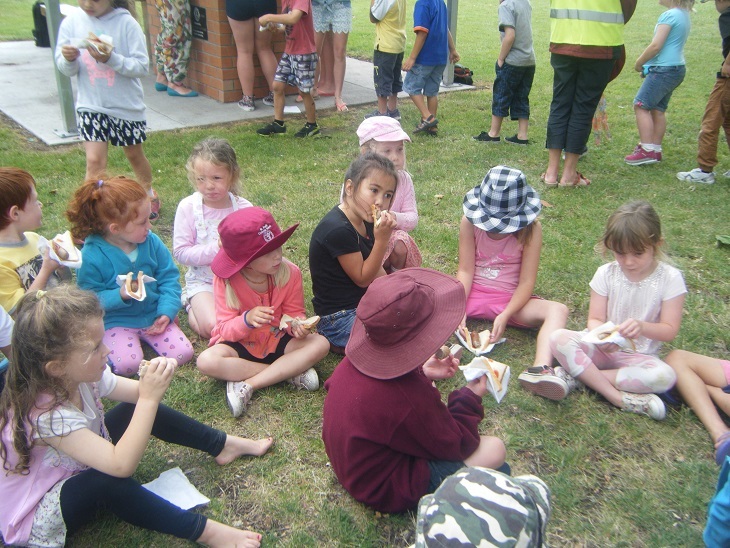 Walking to the Pool
Fun at the Pool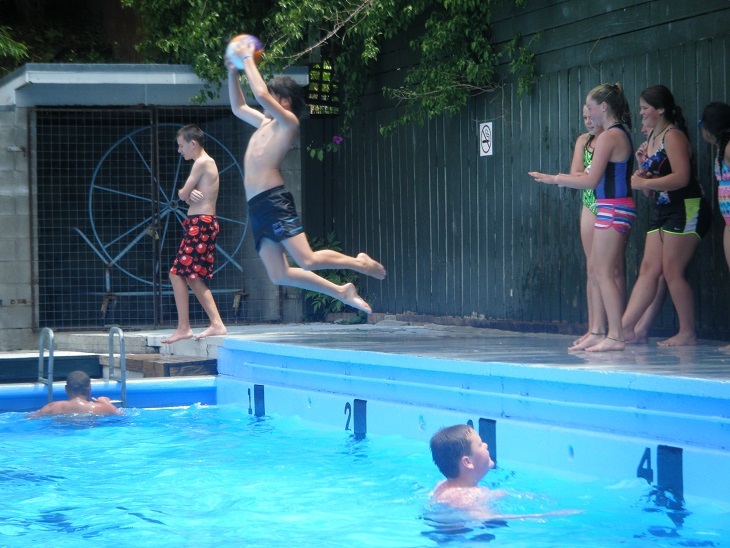 Iceblocks
Back to School
Congratulations to the children who performed for us.
You can see their performances at this link.
Congratulations to all the children
who made their Reconciliation.
The WEL Energy show was very funny. The children learned to switch off at the wall. Ask them to tell you the rhyme they learned.
You can see videos of the children in the Bible Reading Finals on this website - http://stpbiblereadingfinals.blogspot.co.nz/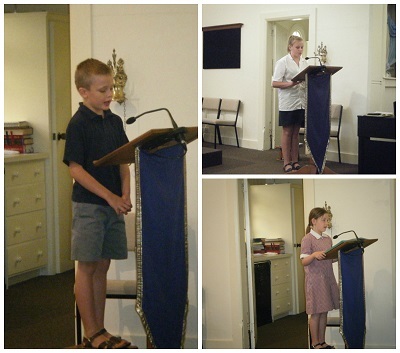 The children love long distance running.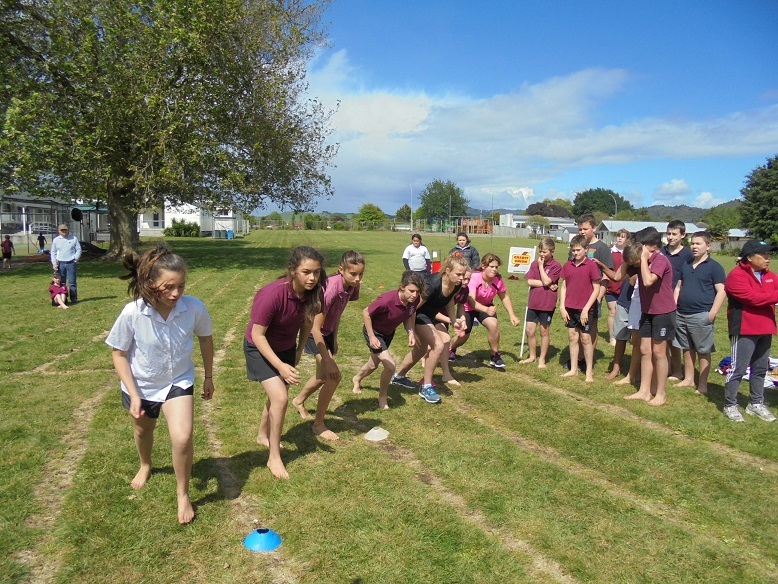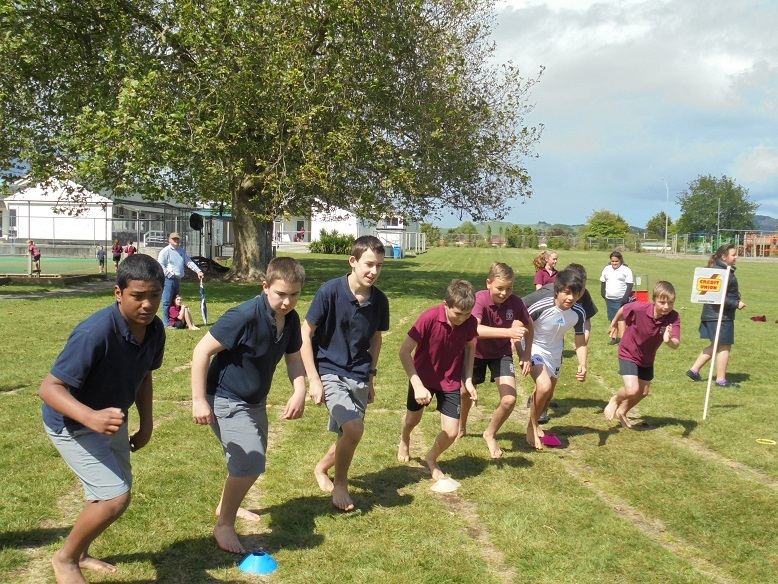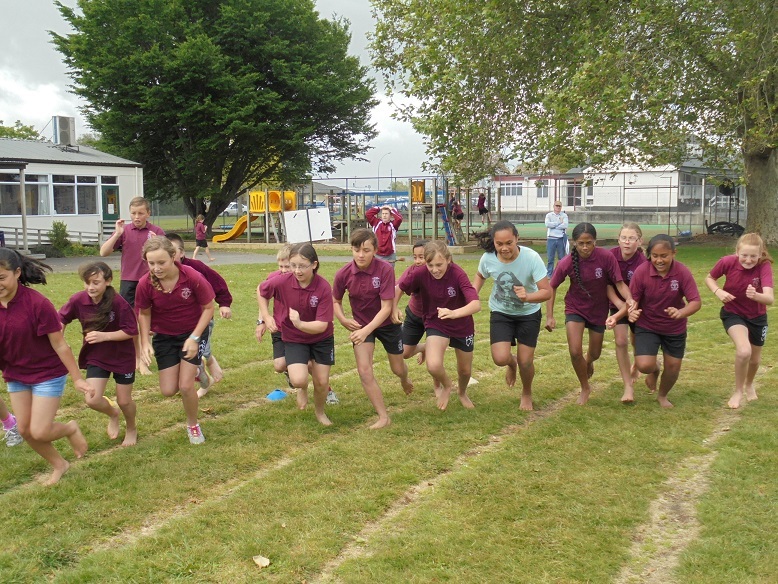 Mission Day was a great success, as usual.
We are practising Athletics Skills. Rachel has been helping us.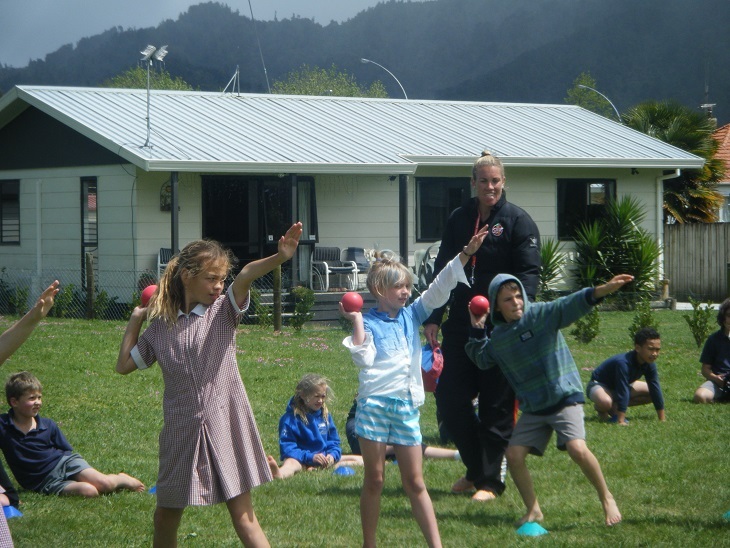 Our production, this year, is Go, Noah.
Our Cross Country was held this afternoon. Well done to all of you.
Congratulations to all our speech Finalists,
and especially Jackson, the overall winner.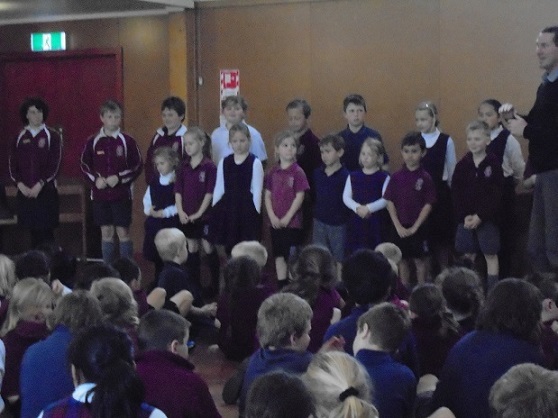 The younger children are enjoying the Disco. Thanks, Kate.
The children made a coin trail out of the money
they brought to school for Daffodil Day.
We have 4 teams entered into the Monday afternoon Miniball competition at the High School Gym.
Congratulations to our children who were baptised,
and to their families.
I found this article on mindbodygreen.com and am sharing it with you.
11 Things I Wish Every Parent Knew
Thank you to all the families who came to school on Saturday to lay the cushion fall on the Junior Playground.
Click on this link to watch Hunter Rose and Chase performing on-stage during one of the Ngaruawahia Country Music Group's afternoons.
Hockey and Soccer Day
Line Dancing Time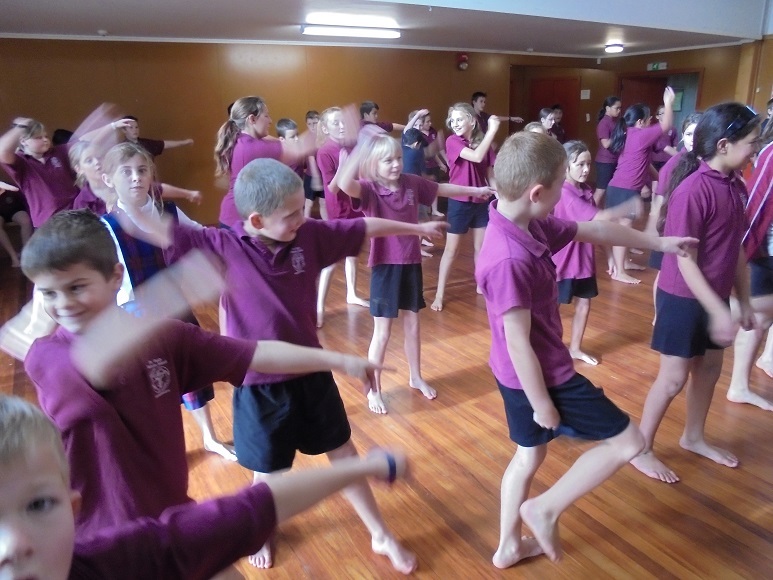 World of Maths
The leaders are practising their leadership skills by
running a sports afternoon for the children.
El Grego performed his magic tricks for the students, with his very powerful message that bullying is not what we do at St Paul's. We treat each other with respect, we are trustworthy, we accept each other for who we are, we are responsible and we care. As well as El Grego performing his magic, Dannii and Chase performed a song about anti-bullying, which Dannii wrote and set to music. Well done, Dannii and Chase. We might see you on New Zealand's Got Talent in the near future. You can hear their performance if you click into Room 6 Class Blog.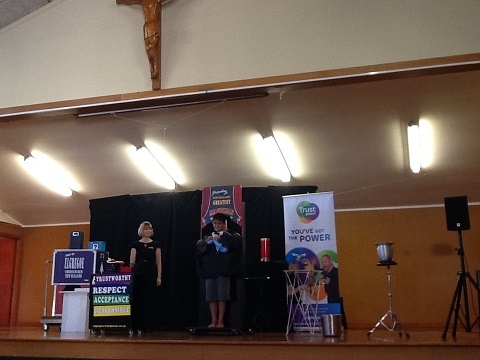 Welcome back for Term 2. Room 5 lead us in the Easter Liturgy, and the Term 2 leaders were announced.
Holy Week is the most important week in the year. Years 1, 2 and 3 put on a Palm Sunday Liturgy for us. You can see it at this link.
The school children put on a concert to say goodbye to Mrs Death and to thank her for everything she did for them during her years here. we wish her and her family well in their move to Tauranga.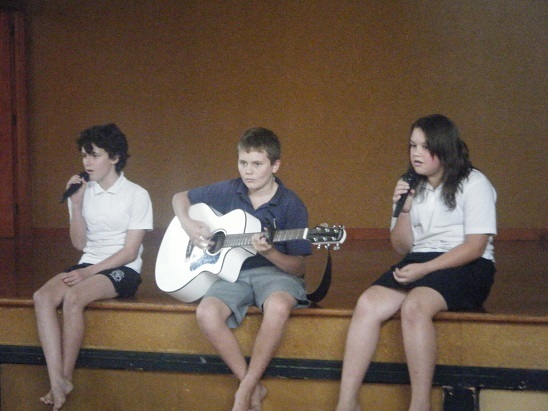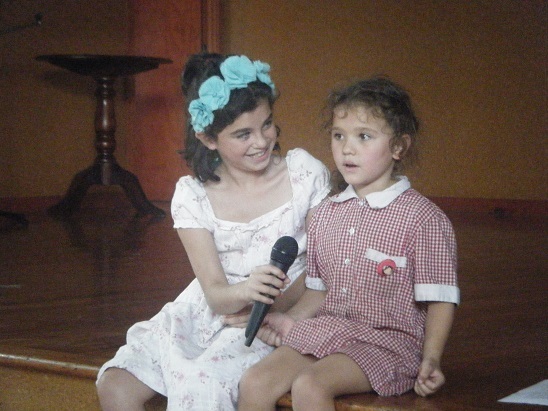 This year, during Lent, we are studying the lives of people who live in the Solomon Islands. Unfortunately, they are, again, victims of a couple of natural disasters - flash flooding and an earthquake. Please pray for the people in the Solomon Islands as they clean up after the disasters.
Mrs Death and Room 4 created a house on stilts like some of the houses in the Solomon Islands. The people there build houses on stilts to keep their houses cool in the warmer weather. (Visit Room 4 on Monday to tell Mrs Thomson why they build their houses on stilts.)
Part of our study of the Solomon Islands included Mass for them and for other people in the world who do not have enough of the basic necessities of life. St Anthony's School in Huntly joined us at Mass, and this was followed by a rice lunch and a sports afternoon.

Mrs Death did some science and technology experiments with Room 5. They had to come up with a carrier that would carry an egg from a great height safely. Here are some of the carriers that the students designed and made.





.

Click here to see the

hot air balloon video clips.

Fantastic results from the waka racing. In the B

Division finals, our Year 6 boys came 1st, our Year 6

girls came 2nd, and our Year 8 girls came 2nd.

Congratulations to all the crews who paddled so hard

today, and were such good sports.
Our waka have been made and they have been blessed by Hono Huirama. May all who use them be safe and enjoy them.
Swimming Sports
Videos of the Swimming Sports can be seen on this site - soon- stpswimmingsports2014.blogspot.co. nz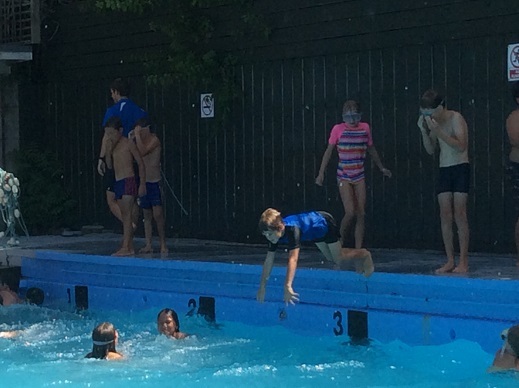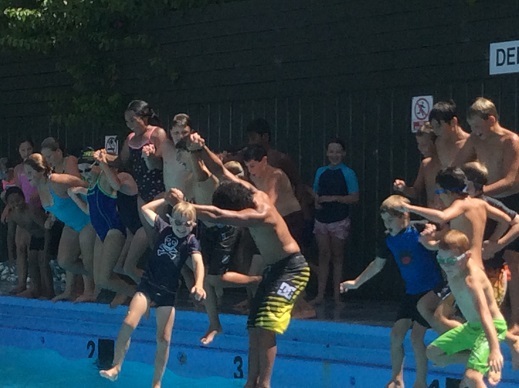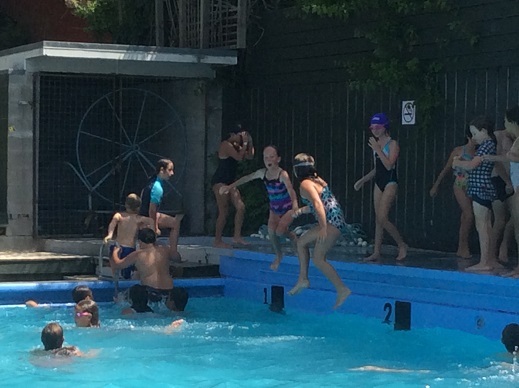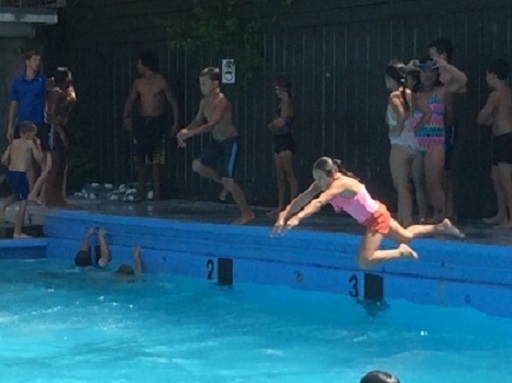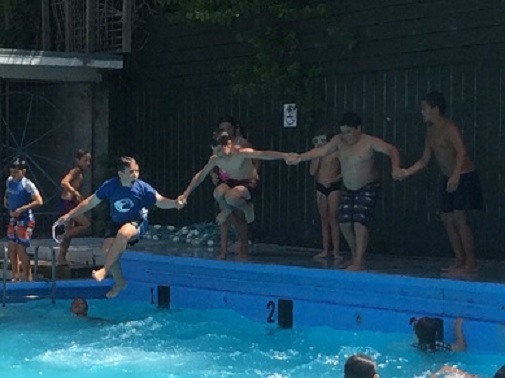 Mrs Russell has a honey-making business, so she has been teaching the students about bees and how they produce honey.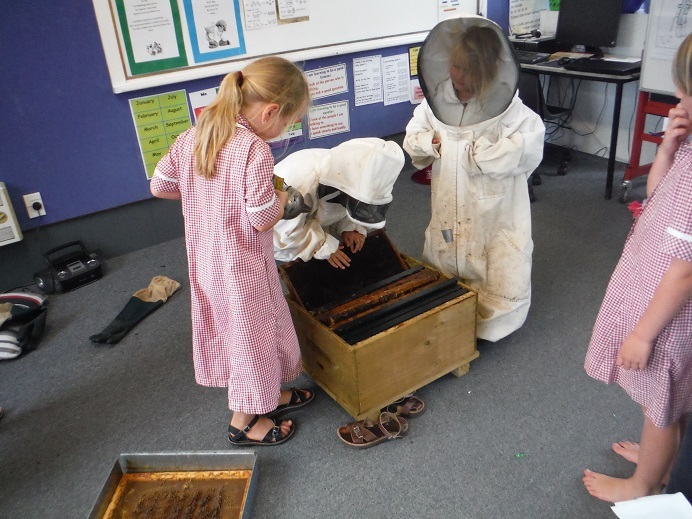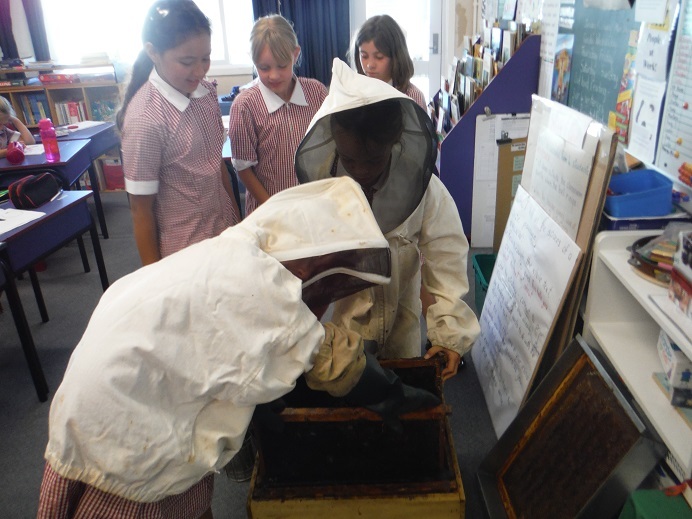 The students have been enjoying their swimming lessons.